What is a Fear Free Certified Animal Hospital?
Fear Free Practice Certification requires the practice to meet 27 mandatory standards and earn a minimum of 1,070 points out of a possible 2,060 from another 28 standards. After creating and implementing Fear Free protocols there is an onsite visit and inspection by a Fear Fear Veterinarian before certification. Each year the hospital has to be reviewed before being renewed.  
Our Fear Free Certification
South Wilton Veterinary Group is dedicated to decreasing stress, anxiety, and fear in our patients while offering the best medical care possible.
You may have noticed the big and small changes in the practice that have led to us earning Fear Free Practice Certification. Small things such as offering treats, kongs, mats, hiding spaces, allowing cats to stay in their carriers or dogs in their family's lap, pre-visit medications, and changes in handling techniques, and larger factors like the design of the practice to include separate cat and dog areas have made a huge difference in our delivery of patient care.
Our staff has worked very hard on not only becoming Fear Free certified as well as implementing and practicing low stress and Fear Free techniques when working with our patients.
How We Implement Fear Free
At our veterinary clinic, the Fear Free approach extends throughout the entire hospital and is prioritized second only to the medical care of our patients. We work with our patients and their people to undertake the following steps before and during each appointment.
Interested in learning more about Fear Free? Contact our office anytime!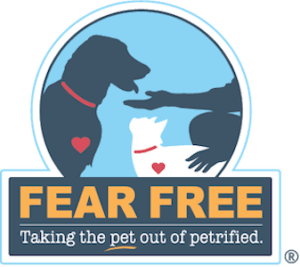 Looking for a Fear Free vet in South Wilton?
We're always accepting new patients, so contact our veterinary hospital today to book your pet's first appointment.
Related Articles   View All
Today, our South Wilton vets explain a little about Lyme disease in pets; what it is, what symptoms to watch for, and how your pet can be treated if diagnosed. 
Fleas can make your pet miserable and lead to infections. Here, our South Wilton vets share how to spot, treat and prevent fleas on your pets.
Heartworm is a serious condition that can result in severe lung disease, heart failure, organ damage and even death. Here, our South Wilton vets explain why prevention is key.