Dr. Clare Fahy is a veterinarian and Medical Director at South Wilton Veterinary Group with more than two decades of experience in animal care. She is a huge advocate for animal rescue and has four rescue animals at home.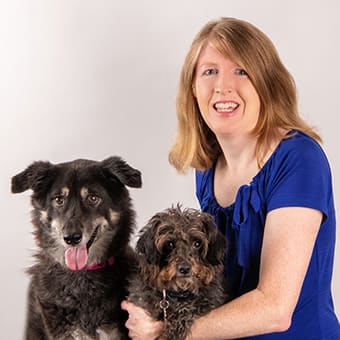 Dr. Clare Fahy
About Dr. Fahy
Dr. Fahy has been in the animal care field for more than 20 years. Her care for animals started at a young age with pet sitting jobs, kennel work, and volunteer work with the ASPCA. She received her DVM from Cornell University in 1999 and joined the South Wilton Veterinary Group shortly thereafter.
Dr. Fahy has a passion not only for both dogs and cats, but for birds, rabbits, guinea pigs, and other small mammals as well. She is a huge advocate for animal rescue, and gets the hospital involved whenever possible. She has established a successful monthly adoption event, working with several local rescue groups to find forever homes for all types of pets.
Dr. Fahy has fostered numerous dogs, and in many cases, finds homes for them with our very own clients. She also volunteers her surgery skills for spays and neuters at local shelters and has made several trips for volunteer surgery clinics in Puerto Rico.
Pets at home include her two rescue dogs, Shanti and Minnie as well as two rescue parakeets, Charlie and Sally.....and whichever foster dog happens to be taking up residence in her lap at the time. Outside of work, Dr. Fahy enjoys gardening, baking, and hiking with her dogs.