Dr. Jennifer Rosen is a veterinarian and Medical Director at South Wilton Veterinary Group with over 14 years of experience in the veterinary field.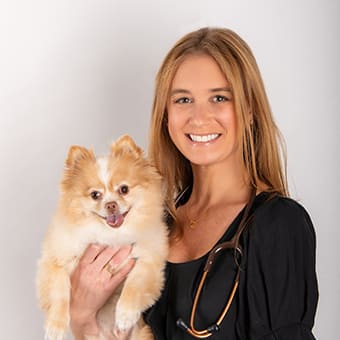 Dr. Jennifer Rosen
About Dr. Rosen
Dr. Rosen has been working in the veterinary field for over 14 years and considers the animal hospital environment to be a home away from home.
She attended Ross University School of Veterinary Medicine in idyllic St. Kitts, West Indies and completed her clinical year of training at University of Florida.
A native New Yorker, she attended Fordham University in the Bronx where she received her Bachelor's degree in Business Administration and a minor in Biology. She spent much of her time working in NY prior to joining the team here at South Wilton Veterinary Group.
Professional interests include veterinary dentistry, soft tissue surgery, and dermatology.
Outside of work Dr. Rosen enjoys traveling, cooking and spending time with friends and family. Her favorite activity is sharing her home with three rescued felines (Big Boy, Marbles and Socks) and her Pomeranian, Santa.