Veterinarian Dr. Talia Gattenuo is passionate about caring for all animals and is an advocate for animal rescue and animal welfare.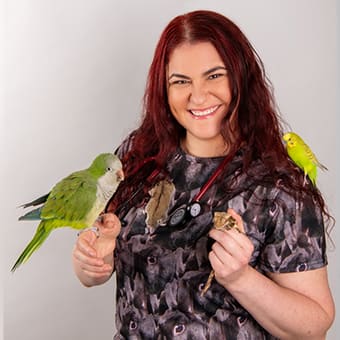 Dr. Talia Gattenuo
About Dr. Gattenuo 
Dr. Gattenuo has been in the animal care field since she was 17 years old. Her love for animals started at a young age while caring for her own exotic animals, pet sitting for special needs pets, and working her way up the ladder at several veterinary clinics.
She attended Ross University School of Veterinary Medicine and completed her clinical year of training at Purdue University. Dr. Gattenuo enjoys interacting with all species but birds, reptiles, rabbits, guinea pigs, and other small mammals are her true passion.
She is a huge advocate for animal rescue and welfare. She has volunteered her surgical and medical skills working in under privileged communities in Costa Rica, Guatemala, and Belize. She also spent time in South Africa learning about conservation medicine with the local animals.
Dr. Gattenuo has rescued many animals that became a part of her family at home. They include her two rescue rabbits, Bun Bun and Patches, as well as two rescue birds, a Parakeet named Hopper and a Quaker parrot named Bird Bird. She also has a hamster named Mr. Mister and a crested gecko named Diego.
Outside of work, Dr. Gattenuo enjoys gardening, hiking, water sports, traveling, cooking, and spending time with her pets and her human family.
Dr. Gattenuo is Fear Free Certified in Avian medicine and takes pride in ensuring that her avian patients get proper care during their lifespan while decreasing their overall stress in the clinic.